Registered Physiotherapist & Physiotherapy Treatment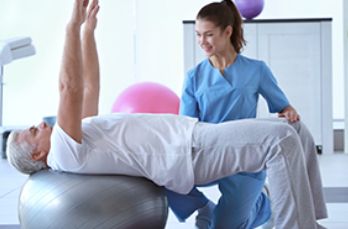 What is physiotherapy and what does a registered physiotherapist do?
Treatment under the care of a registered physiotherapist is a recognized and effective solution for many musculoskeletal problems.
Read More
Physiotherapy with Us
During the initial patient consultation and throughout treatment, our physiotherapists at My Toronto Physio work hard to understand the story, goals and needs of our patients.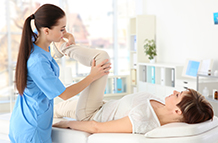 Read More
What Can We Treat?
Some of the many conditions that our physiotherapists can treat include:
Read More
To book an appointment, Call Us today at 416-691-3943 or contact us here.
Frequently Asked Questions About Physiotherapy Treatment
What equipment is used in physiotherapy?
Commonly used equipment includes modalities such as therapeutic laser, ultrasound, electrical stimulation and acupuncture needles. A variety of exercise equipment may also be used to formulate a progressive exercise protocol.
How quickly does physiotherapy work for your injury?
Most patients will see a significant improvement in their injury and functional capacity within 4 to 6 sessions with a physiotherapist. More complex or long standing issues may take longer to improve.
Should I rest after a physiotherapy session?
Your physiotherapist will advise you on whether or not you should rest after your session based on what was included in that particular visit. For example, if the visit was heavily focused on exercise, your therapist may advise you take it easy for the rest of the day.
Are physio excersices painful?
In some instances rehabilitation exercises may come with an element of pain. This is heavily dependent on the nature of your injury. Upon prescribing an exercise, your therapist will instruct you though the movement to assess your capacity and level of discomfort. They will also let you know what an acceptable level of discomfort is when performing the movement.
What techniques do physiotherapists use?
Physiotherapists have a wide variety of techniques at their disposal. These include manual therapy techniques such as joint mobilisations/manipulations, muscle stretching and soft tissue release techniques. They also have access to modalities such as electrotherapy, therapeutic laser, ultrasound, taping, acupuncture and dry needling. Physiotherapists also have extensive knowledge of biomechanics and corrective exercise techniques.
What are side effects of physiotherapy?
Side effects from physiotherapy interventions vary greatly depending on what form of treatment is received. Your physiotherapist will inform you of the risks and benefits of a treatment before you decide whether or not it is right for you. The most common side effect is minor soreness that lasts 24-48 hours after treatment.
Does physio help nerve pain?
With the proper intervention, a physiotherapist can significantly relieve or resolve nerve pain. Outcomes are patient specific. Every person is unique. There are many factors at play when it comes to the pain experience. A physiotherapist can help you understand these factors in order to begin your recovery.