Post COVID-19 Rehabilitation and Recovery Program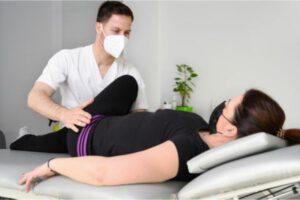 Are you still feeling the effects of COVID-19 weeks after your diagnosis?  You're not alone.  Preliminary research shows that 1 in 10 people suffering from COVID-19 can develop "Long COVID" where symptoms can last up to 12 weeks or more.
We can help. Whether you are struggling with fatigue, weakness, difficulty breathing, balance issues, or you just don't feel back to normal, our multi-disciplinary team will help you get you back to life.
* Note, this program is not for patients actively infected and/or with active symptoms of COVID-19.
What is the Post COVID-19 Rehabilitation and Recovery Program?
COVID-19 is unlike any other illness we've experienced. Fear of the unknown is impacting many, and those recovering from the virus often face many lingering issues.
As we recognize this virus may be with us for some time to come, we have developed a new program to meet the emerging needs of Canadians called the Post COVID-19 Rehabilitation and Recovery Program. The program was developed for individuals who have contracted the virus and continue to feel the physical and mental effects of this critical illness. The program addresses both the current and long-term needs of those affected by the pandemic.
The program was developed in collaboration with leading healthcare professionals across the country and reflects the most current research on the topic. Our rehabilitation services are available in-person or virtually.
How does it work?
Our therapists are trained on the latest COVID-19 research and clinical best practices. Our multi-disciplinary approach to assessment and treatment is designed to help you recover as quickly and safely as possible.
Our team collaborates together to ensure you receive the treatment you need. Your treatment plan may include a combination of approaches such as physical exercise, manual therapy, vestibular therapy, education and more.
How can it help me?
As every situation is unique, we tailor our care to meet your needs. We can help address the physical symptoms, which may include physical deconditioning, difficulty breathing, decreased balance, impaired cardiac function, and more.  We work with you to develop a specific treatment plan to help treat your specific issues.
What can I expect at my initial appointment?
At your initial appointment your physiotherapist will discuss any medical history that relates to your condition, so please bring details of any health problems and past treatments.
As well, an assessment will be conducted, virtually or in-person, on the area or areas where you are experiencing discomfort. If in-person please wear comfortable, loose-fitting clothing that will allow the area to be evaluated.