Nutrition Counseling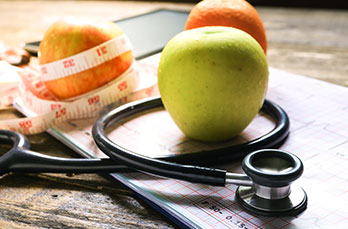 Our registered dietitian will help you to set small, realistic goals to improve your health and quality of life, while maintaining your favourite foods!
Read More
Nutrition Counseling only available at West Location.
Frequently Asked Questions About Nutrition Counseling
What is the difference between a nutritionist and a registered dietitian?
In Ontario, anyone can call themselves a nutritionist, whereas registered dietitian is a regulated title. Registered Dietitians are accountable to provincial colleges for safe, competent services and have rigorous training standards, with a 4-year degree, practical training program & completion of a national exam.
What should I expect from an appointment with a dietitian?
A dietitian will translate the evidence-based science of nutrition into real-life strategies helping you to distinguish between fact and fiction. They will create a personalized plan for you, helping you to set small, sustainable goals to meet your larger nutrition & health-related goals.
How often should you see a dietitian?
"This is individual! Most people would benefit from seeing a dietitian at least once to ensure they're getting the right balance of nutrients to optimize health. For others managing weight or chronic diseases, more frequent appointments are beneficial, from every 2-3 weeks initially to every 3-6 months once a plan is established. Many private insurance companies cover at least partial costs of dietitian services."
Why is nutrition essential?
Nutrition is essential for basically everything! From maintaining energy levels, preventing and managing most chronic diseases, influencing mood and mental outlook and maintaining all body functions (from large organs to bone to nail growth), nutrition plays a role.