Foot & Ankle Sprain Treatment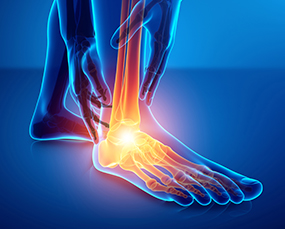 The ankle is a hinge joint that allows the foot to move in multiple directions: away from the body as in pointing your foot (plantar flexion) and toward the body (dorsiflexion).
Read More
Ankle Sprain
An ankle sprain is one of the most common causes of ankle pain and makes up 85 percent of all ankle injuries. A sprain occurs when your ligaments tear or get overstretched.
Read More
Tendonitis
tendonitis is inflammation of a tendon. Tendinitis of the ankle usually involves the Achilles tendon, the posterior tibial tendon located on the inside of the foot, or the peroneal tendon located on the outside of the foot.
Read More
Osteoarthritis (OA)
The ankle joint is subject to symptomatic arthritis at a much lower rate than the other major weight-bearing joints in the lower extremity.
Read More
Plantar Fasciitis
Plantar fasciitis is one of the most common causes of heel pain. It involves inflammation of a thick band of tissue called the plantar fascia that runs across the bottom of your foot and connects your heel bone to your toes.
Read More
Stress Fracture
This type of fracture is often not visible on x-rays but can cause significant pain and therefore is difficult to accurately diagnose.
Read More
Morton's Neuroma
Neuroma is an enlargement or thickening of a nerve in the foot in the area between the toes — usually the third interspace between the third and fourth toes.
Read More
Physiotherapy Treatment
Physiotherapy is proven to decrease pain, aid in recovery, and deal with both acute and chronic issues with the foot and ankle.
Read More
To book an appointment, Call Us today at 416-691-3943 or contact us here.