Wrist Pain & Carpal Tunnel Syndrome Treatment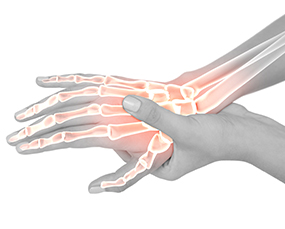 If you have pain in your wrist when carrying a bag, turning a doorknob, or experience numbness in your fingers, you may require treatment. Wrist pain can be caused by a sprain, traumatic or overuse injury, or due to a medical condition (ex: arthritis).
Read More
Carpal Tunnel Syndrome
The carpal tunnel is a small boney tunnel in the wrist that has multiple tendons and a nerve called the median nerve passing through it.
Read More
De Quervain's tenosynovitis
This condition is an inflammation of the tendons on the side of the wrist at the base of the thumb.
Read More
Arthritis of the wrist joint or base of thumb (CMC joint)
Wear and tear, an injury or aging can all contribute to the development of arthritic symptoms, such as swelling, redness and pain,
Read More
Wrist sprain and a subluxed bone
This is caused by falling on an outstretched hand, or when punching something with force.
Read More
Triangular Fibrocartilage Complex Tear (TFCC)
The TFCC is a cartilage structure located on the small finger side of the wrist that cushions and supports the small wrist bones in the wrist.
Read More
Physiotherapy treatment
Management of the above conditions has been proven to be helpful in relieving pain, speeding up recovery, and rehabilitating chronic issues.
Read More
To book an appointment, Call Us today at 416-691-3943 or contact us here.